About Project
My Role
Laravel Developer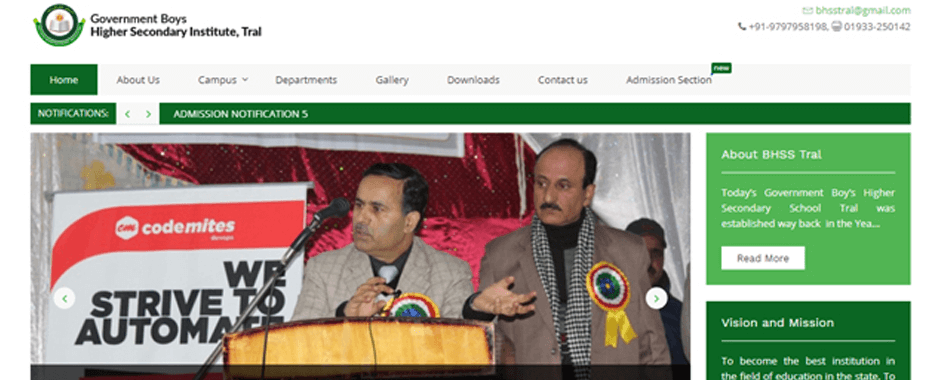 Summary
Today's Government Boy's Higher Secondary School Tral was established way back  in the Year 1903 as a Primary School and the total number of students was exactly 78. The student strength accordingly increased to 112, 125 and 147 in the years 1922, 1925 and 1927 respectively. 
The process of upgradation started in  1933 to Lower Middle Level and to Middle School Level in the Year 1934. Consequently the school was upgraded to Lower High School in 1943 and to High School Level in 1944. It was the only High School established in the erstwhile Anantnag District. ( Today's four District's i.e, Anatnag, Shopian, Pulwama and Kulgam)
The First Batch of students   sent up to sit in 10th class exam held under Lahore University was in the Year 1945. In 1961, the school was upgraded to Higher Secondary Level for elective classes only and Mr. Muhammad Ahsan Shah was the first Headmaster of the school during it's elective level.
It was in 1975 that the school was upgraded to level of Higher Secondary School when PUC & TDC-I classes were started. Mr. S.L.Raina was the first Principal of the school.
Among the distinguished personalities that served in the school as Headmasters and Principals includeMr. M.M.Kazim, Mr.Muhammad Hussain, Mr.Ab.Salam Salik, Mr.Gh.Hassan Qureshi, Mr.Gh.Hassan Inqilabi, Mr.Gh.Mohi-ud-din Khanabali,Mr.Gh. Mohiudin Bhat, Mr.M.L.Kantroo, Mr.Saraf, Mr.G.P.Singh and a long list ahead. Right from 1903 till date the school has been a source of inspiration for generations and its alumnus are shining it every walk of life. It is apt to say that the fame that the people of Tral have earned through out the state is simply because of this school.
Technologies in Use
These are the technologies i have used in this project.
HTML 5
CSS 3
BOOTSTRAP
JAVASCRIPT
JQUERY
AJAX
PHP
LARAVEL 5.7
MYSQL