About Project
My Role
Full Stack Developer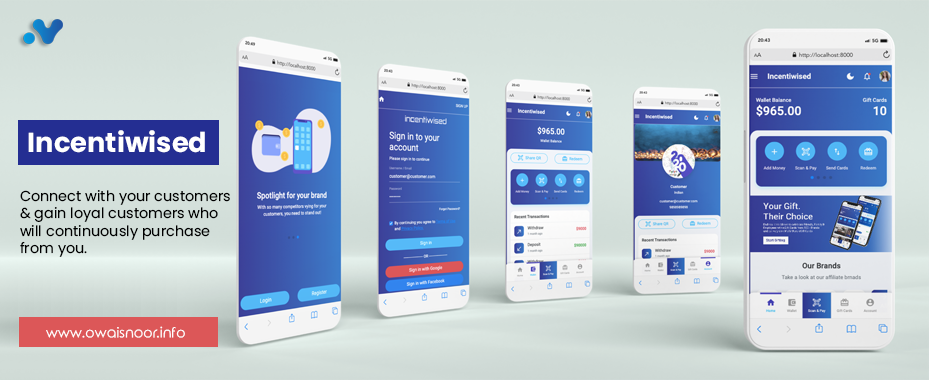 Summary
The app described here is a digital loyalty program for businesses that allow customers to receive points and wallet money in various ways. These rewards can then be redeemed for various rewards through a smartphone app. The app is a progressive web app which means that it provides a similar user experience to a native app but can be accessed through a browser without the need for a separate download or installation.

The app is designed to help businesses incentivize repeat purchases, increase customer engagement, and encourage referrals at every stage of the customer journey. It offers several features, including a mobile-first design that is optimized for use on smartphones. Customers can store their rewards in a digital wallet, and businesses can issue gift cards, and e-vouchers, and run custom campaigns to further incentivize purchases.

The app also offers role-based authorization, allowing businesses to control access to certain features and ensure that only authorized users can make changes to the program. Social logins and engagement features allow customers to easily connect with the business and share their experiences on social media, while brands generated content helps to promote the business and its products.

Customers can sign up for an account and refer friends to the program, and businesses can offer referral programs to encourage even more referrals. The app also allows for the exchange of money and offers dark and RTL (right-to-left) modes for users who prefer a different look and feel.

One notable feature of the app is its OCR (Optical Character Recognition) system, which allows customers to scan receipts or other documents to earn rewards. The app also supports QR scanning for easy redemption of rewards.

Overall, this app is designed to help businesses build and maintain customer loyalty by offering a customizable loyalty program that is easy to use and provides a great user experience for both customers and businesses.
Start rewarding your customers with a custom Points & Rewards program that incentivizes repeat purchases, and increases engagement and referrals at every stage of the customer journey. 
Main Features - Mobile First Design:
Wallet
Gift Cards
Role-Based Authorization
E-Vouchers
Custom Campaigns
OCR System
SPA App
Social Logins & Engagement
Brands Generated Content
Account Sign-Up
Gift a Friend
Referral Programs
Exchange Money
Dark & RTL Mode
QR Scanning
Can run on both Android and iOS devices.
Technologies in Use
These are the technologies i have used in this project.
HTML 5
CSS 3
BOOTSTRAP 5*
JAVASCRIPT
JQUERY
AJAX
JSON
PHP
LARAVEL 8
VUE.JS
MYSQL