About Project
My Role
Full Stack Developer
Content Type
Static Cum Dynaimc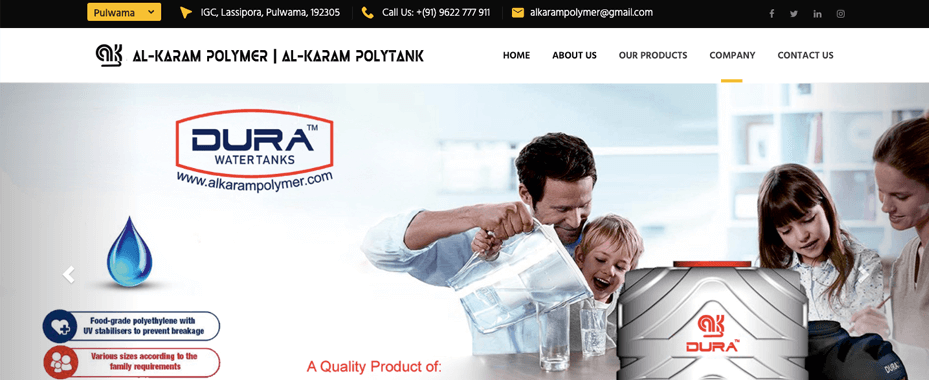 Summary
Established in 2013, Al-Karam Polymer Pvt. Ltd. is the manufacturer of high-quality products like Cellular EPE Foam Sheet Rolls. Established in 2019. Al-Karam Polytank Pvt. Ltd. is the manufacturer of Blowmoulding Water Storage Tanks which are environmentally friendly and use food-grade material. The superior product line is what defines our Companies' USP.
Our expertise and proven track record of offering high-quality products has made us a leading force of the market. We aspire to supply high-quality products to our customers in conformation with the global quality standards. It is our cutting edge technology and commitment to quality that helps us to find a stronghold in the global market.
We are backed by a competent team of professionals from Korea and Italy, which assists us in sourcing raw material so as to manufacture premium quality products. Owing to our client-centric approach, we deliver the products to the customers as per their demands within a fixed time frame. The transparency in dealings maintained by us helps in winning the trust of customers and maintaining a long-lasting healthy business relationship with them.
Technologies in Use
These are the technologies i have used in this project.
HTML 5
CSS 3
BOOTSTRAP
JAVASCRIPT
JQUERY
AJAX
PHP
LARAVEL 5.7
VUE.JS
MYSQL